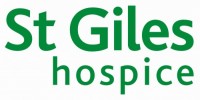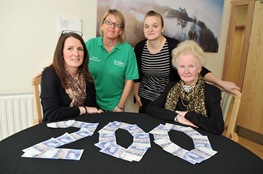 Freemasons support St Giles Walsall Hospice in memory of Brian White
An Aldridge-based Masonic lodge has made a generous contribution to St Giles Walsall Hospice in memory of their worshipful brother Brian White.
The Lodge of Construction 5350, who meet at Masonic Hall in The Green, raised £200 at their March meeting, at a time when Brian was benefiting from St Giles' exceptional care and support during the final days of his life.
Brian sadly died on Wednesday 27th March, and the funds were handed over to St Giles in recognition of the specialist treatment he and many other local people have received at the hospice since it opened two years ago this month.
Keith Crawford, Worshipful Brother, says: "Brian was diagnosed with cancer about 12 months ago and his condition deteriorated to the point where he needed St Giles' assistance.
"The treatment he received at the hospice was tremendous – the nurses were caring and thoughtful and they made sure his every need was tended too. Another lodge member said that Brian was looked after like a king!
"During his time at the hospice, Brian asked that the lodge should try to help by raising funds for the charity and we were happy to oblige.
"At our meeting in March, each of our 28 members gave funds towards our donation, which is sign of how much Brian meant to us and how valuable St Giles' services have become to the community since it opened two years ago."
Helen Relihan, Head of Fundraising for St Giles Hospice, says: "We are extremely grateful to the Lodge of Construction for the kind-hearted donation they made in memory of Brian and in recognition of our work in the community since the first patient was cared for at St Giles Walsall Hospice in 2011."