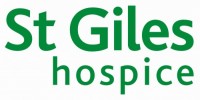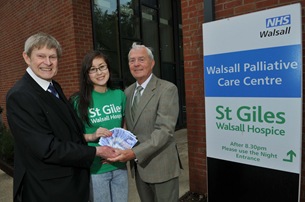 Aldridge Freemasons make second cash gift to St Giles Walsall Hospice
Members of a Masonic lodge have handed a generous donation to leading local charity St Giles Walsall Hospice – for the second time in the space of just a few weeks.
The Aldridge-based Lodge of Construction 5350 presented a £500 cheque to St Giles following its Ladies' Festival, an annual celebration attended by members along with their wives, partners, family members and friends.
The special gift follows an earlier contribution of £200 made by members of the lodge, who meet at Masonic Hall in The Green.
Both donations have been made in recognition of the care and support St Giles Walsall Hospice provided to late member Brian White before he lost his battle with cancer in March 2013.
Worshipful Brother Keith Crawford says: "Up until Brian was admitted to St Giles Walsall Hospice earlier this year, most of us didn't know much about the fine work they do for the local community – and how reliant they are on fundraising and donations to continue providing their services.
"The care Brian received really opened our eyes to how important this charity is to the Walsall area, and we're delighted to be able to present the proceeds from our recent Ladies' Festival to St Giles in the wake of our previous donation.
Worshipful Brother David Cook, Master of the Lodge, says: "We will continue to support this worthwhile facility however and whenever we can in the future."
St Giles Walsall Hospice is a 12-bed in-patient facility based at the Palliative Care Centre in Goscote, offering specialist care for patients living with cancer and other serious illnesses who are too poorly to remain at home. The hospice marked its second anniversary in April 2013.
Helen Relihan, Head of Fundraising for St Giles Hospice, says: "We were delighted enough to receive the first donation from the Lodge of Construction 5350 a few weeks ago, so to be presented with yet another generous gift so soon afterwards is absolutely wonderful.
"At St Giles Walsall Hospice we need to raise about £800,000 from the community every year in order to provide the caring services which mean so much to local people, and donations such as these are hugely important to us.
"On behalf of everyone at St Giles, I would like to thank the Lodge of Construction 5350 for their fantastic support."